3987 W 4100
West Haven, UT 84401
Description
*MECHANICS DREAM! 2000 Sq Ft detached garage with Hydraulic Auto Lift and overhead crane-12+car parking & 12' doors. RARE find! EXTRA long driveway to RV pad and more parking. Owned Solar Panels have 25yr Warranty and have lowered power bill to approximately $20-$40 per month. Open floor plan. Large Master Bedroom with 2 walk-in closets, 2 separate vanities, bathtub with separate shower-French doors leading to the Deck. Spacious Kitchen that features a double oven, an island with range, walk-in pantry and plenty of cabinet space. Wash sink in Laundry Room. Jack n Jill bathroom connects to 2 upstairs bedrooms. Stunning entry with formal sitting area and Elegant Formal Dining. French Doors to charming Den. Elegant Rock Fireplace. Washer and Dryer hookups on both levels. French doors leading to a large/full walkout to backyard. Fire-pit. Gorgeous basement that could be mother in-law apartment. Basement has a Beautiful kitchen, stamped concrete HEATED FLOORS w/3 zones. Large Craft Room. Central Vacuum. Water Softener. LARGE backyard, with beautiful/full landscaping. Three access areas to covered deck. Wood, Tile, Carpet and Heated Floors. This Elegant home has it all and more. Plenty of storage space. Square footage and other figures are provided as a courtesy estimate only. Buyer is advised to obtain an independent measurement.*
Property Details
Property Features

Amenities: Cable Tv Available, Cable Tv Wired, Electric Dryer Hookup, Exercise Room, Gas Dryer Hookup
Community Pool: 0
Exclusions: Dryer, Freezer, Gas Grill/BBQ, Microwave, Refrigerator, Washer
Owner Type: 4
Pool: N
Possession: 48hrs
School Other: 0
Spa: 0
Terms: Cash, Conventional, FHA, VA
Utilities: See Remarks, Gas: Available, Gas: Connected, Power: Available, Power: Connected, Sewer: Available, Sewer: Connected, Sewer: Public, Water: Available, Water: Connected
Water: Culinary, Irrigation, Irrigation: Pressure, Secondary
Water Shares: 0.00
Year Remodeled: 2000
Zoning: Single-Family

Exterior Features

Carport Capacity: 0
Decks: 1
Driveway: 5
Exterior Building Materials: Asbestos Shingles, Asphalt Shingles, Brick, Stucco
Exterior Features: Basement Entrance, Deck: Covered, Double Pane Windows, Entry (Foyer), Horse Property, Out Buildings, Outdoor Lighting, Secured Building, Secured Parking, Sliding Glass Doors, Walkout
Frontage Facing: 0
Landscaping: Landscaping: Full, Mature Trees
Length In Feet Of Back Of Property: 0.0
Length In Feet Of Side Of Property: 0.0
Lot Description: Fenced: Full, Road: Paved, Secluded Yard, Sprinkler: Auto-Full, Terrain: Flat, View: Mountain, Private
Patios: 1
Roof Features: Asphalt Shingles
Storage: 3,6,7

Parking Information

Garage Capacity: 4
Garage Parking Features: Attached, Detached, Extra Height, Extra Width, Opener, Parking: Covered, Parking: Uncovered, Rv Parking, Storage Above, Extra Length, Workshop, Workbench
Parking Capacity: 12

Taxes, Fees

Taxes: 4,903
Hoa: N
Hoa Fee: 0
Inclusions: Alarm System, Ceiling Fan, Fireplace Equipment, Fireplace Insert, Range, Satellite Dish, Storage Sheds, Water Softener: Own, Window Coverings, Workbench
Maintenance Fee: 0

Interior Features

Air Conditioning: Central Air: Electric, Central Air: Gas
Basement: Daylight, Entrance, Full, Walkout
Basement Finished Percentage: 100
Floor Coverings: See Remarks, Carpet, Hardwood, Tile, Concrete
Heating Features: Gas: Central, Gas: Radiant, >= 95% efficiency, Radiant: In Floor
Interior Features: Alarm: Fire, Alarm: Security, Basement Apartment, Bath: Master, Bath: Sep. Tub/Shower, Central Vacuum, Closet: Walk-In, Den/Office, Dishwasher: Built-In, Disposal, French Doors, Gas Log, Great Room, Jetted Tub, Kitchen: Second, Kitchen: Updated, Mother-in-Law Apt., Oven: Double, Range: Countertop, Range: Down Vent, Vaulted Ceilings, Granite Countertops, Theater Room
Level Basement Bedrooms: 1
Level Basement Full Baths: 1
Level Basement Half Baths: 0
Level Basement Sq Ft: 2646
Level Basement Three Quarter Baths: 0
Level1 Bedrooms: 3
Level1 Bedrooms: 2
Level1 Half Baths: 1
Level1 Sq Ft: 2646
Level1 Three Quarter Baths: 0
Level2 Bedrooms: 0
Level2 Full Baths: 0
Level2 Half Baths: 0
Level2 Sq Ft: 0
Level2 Three Quarter Baths: 0
Level3 Bedrooms: 0
Level3 Full Baths: 0
Level3 Half Baths: 0
Level3 Sq Ft: 0
Level3 Three Quarter Baths: 0
Level4 Bedrooms: 0
Level4 Full Baths: 0
Level4 Half Baths: 0
Level4 Sq Ft: 0
Level4 Three Quarter Baths: 0
Total Baths: 4
Total Breakfast Bars: 0
Total Dens: 2
Total Family Rooms: 2
Total Fireplaces: 1
Total Formal Dining Rooms: 1
Total Kitchens: 2
Total Laundry Rooms: 2
Total Semi Formal Dining Rooms: 0
Windows: 2,3
Listing information © 2019
Listing Provided Courtesy of
Shepherd Real Estate Group
via Wasatch Front Regional Multiple Listing Service, Inc.
MLS Listings are provided by the Wasatch Front Regional Multiple Listing Service, Inc., which is powered by Utah's REALTORS®.
3987 W 4100 West Haven, UT 84401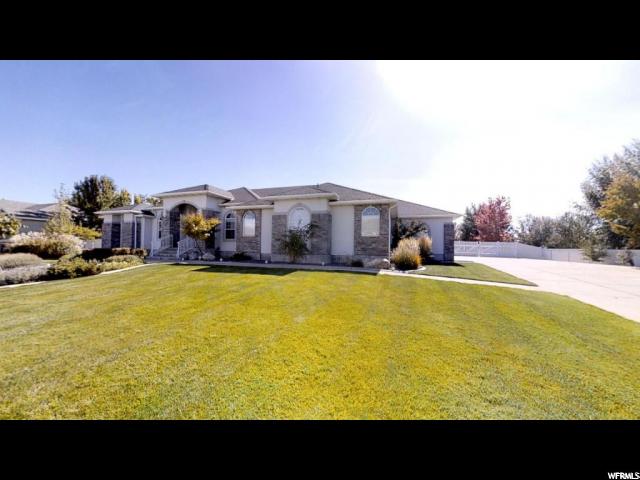 3987 W 4100 West Haven, UT 84401
Price: $695,000
Status: Active
Updated: 6 min ago
MLS #: UREMLS-1639110
Area:
Ogdn; W Hvn; Ter; Rvrdl
Property Description
*MECHANICS DREAM! 2000 Sq Ft detached garage with Hydraulic Auto Lift and overhead crane-12+car parking & 12' doors. RARE find! EXTRA long driveway to RV pad and more parking. Owned Solar Panels have 25yr Warranty and have lowered power bill to approximately $20-$40 per month. Open floor plan. Large Master Bedroom with 2 walk-in closets, 2 separate vanities, bathtub with separate shower-French doors leading to the Deck. Spacious Kitchen that features a double oven, an island with range, walk-in pantry and plenty of cabinet space. Wash sink in Laundry Room. Jack n Jill bathroom connects to 2 upstairs bedrooms. Stunning entry with formal sitting area and Elegant Formal Dining. French Doors to charming Den. Elegant Rock Fireplace. Washer and Dryer hookups on both levels. French doors leading to a large/full walkout to backyard. Fire-pit. Gorgeous basement that could be mother in-law apartment. Basement has a Beautiful kitchen, stamped concrete HEATED FLOORS w/3 zones. Large Craft Room. Central Vacuum. Water Softener. LARGE backyard, with beautiful/full landscaping. Three access areas to covered deck. Wood, Tile, Carpet and Heated Floors. This Elegant home has it all and more. Plenty of storage space. Square footage and other figures are provided as a courtesy estimate only. Buyer is advised to obtain an independent measurement.*
Property Features
Amenities Cable Tv Available, Cable Tv Wired, Electric Dryer Hookup, Exercise Room, Gas Dryer Hookup Community Pool 0 Exclusions Dryer, Freezer, Gas Grill/BBQ, Microwave, Refrigerator, Washer Owner Type 4 Pool N Possession 48hrs School Other 0 Spa 0 Terms Cash, Conventional, FHA, VA Utilities See Remarks, Gas: Available, Gas: Connected, Power: Available, Power: Connected, Sewer: Available, Sewer: Connected, Sewer: Public, Water: Available, Water: Connected Water Culinary, Irrigation, Irrigation: Pressure, Secondary Water Shares 0.00 Year Remodeled 2000 Zoning Single-Family
Exterior Features
Carport Capacity 0 Decks 1 Driveway 5 Exterior Building Materials Asbestos Shingles, Asphalt Shingles, Brick, Stucco Exterior Features Basement Entrance, Deck: Covered, Double Pane Windows, Entry (Foyer), Horse Property, Out Buildings, Outdoor Lighting, Secured Building, Secured Parking, Sliding Glass Doors, Walkout Frontage Facing 0 Landscaping Landscaping: Full, Mature Trees Length In Feet Of Back Of Property 0.0 Length In Feet Of Side Of Property 0.0 Lot Description Fenced: Full, Road: Paved, Secluded Yard, Sprinkler: Auto-Full, Terrain: Flat, View: Mountain, Private Patios 1 Roof Features Asphalt Shingles Storage 3,6,7
Interior Features
Air Conditioning Central Air: Electric, Central Air: Gas Basement Daylight, Entrance, Full, Walkout Basement Finished Percentage 100 Floor Coverings See Remarks, Carpet, Hardwood, Tile, Concrete Heating Features Gas: Central, Gas: Radiant, >= 95% efficiency, Radiant: In Floor Interior Features Alarm: Fire, Alarm: Security, Basement Apartment, Bath: Master, Bath: Sep. Tub/Shower, Central Vacuum, Closet: Walk-In, Den/Office, Dishwasher: Built-In, Disposal, French Doors, Gas Log, Great Room, Jetted Tub, Kitchen: Second, Kitchen: Updated, Mother-in-Law Apt., Oven: Double, Range: Countertop, Range: Down Vent, Vaulted Ceilings, Granite Countertops, Theater Room Level Basement Bedrooms 1 Level Basement Full Baths 1 Level Basement Half Baths 0 Level Basement Sq Ft 2646 Level Basement Three Quarter Baths 0 Level1 Bedrooms 3 Level1 Bedrooms 2 Level1 Half Baths 1 Level1 Sq Ft 2646 Level1 Three Quarter Baths 0 Level2 Bedrooms 0 Level2 Bedrooms 0 Level2 Half Baths 0 Level2 Sq Ft 0 Level2 Three Quarter Baths 0 Level3 Bedrooms 0 Level3 Bedrooms 0 Level3 Half Baths 0 Level3 Sq Ft 0 Level3 Three Quarter Baths 0 Level4 Bedrooms 0 Level4 Bedrooms 0 Level4 Half Baths 0 Level4 Sq Ft 0 Level4 Three Quarter Baths 0 Total Baths 4 Total Breakfast Bars 0 Total Dens 2 Total Family Rooms 2 Total Fireplaces 1 Total Formal Dining Rooms 1 Total Kitchens 2 Total Laundry Rooms 2 Total Semi Formal Dining Rooms 0 Windows 2,3
Parking Information
Garage Capacity 4 Garage Parking Features Attached, Detached, Extra Height, Extra Width, Opener, Parking: Covered, Parking: Uncovered, Rv Parking, Storage Above, Extra Length, Workshop, Workbench Parking Capacity 12
Taxes, Fees
Taxes 4,903 Hoa N Hoa Fee 0 Inclusions Alarm System, Ceiling Fan, Fireplace Equipment, Fireplace Insert, Range, Satellite Dish, Storage Sheds, Water Softener: Own, Window Coverings, Workbench Maintenance Fee 0
Listing information © 2019
Listing Provided Courtesy of
Shepherd Real Estate Group
via Wasatch Front Regional Multiple Listing Service, Inc.
MLS Listings are provided by the Wasatch Front Regional Multiple Listing Service, Inc., which is powered by Utah's REALTORS®.